In our last Bitcoin price analysis, we mentioned the 'last hope' for Bitcoin. Good news for the bulls: the Doji candle on the 4-hour chart maintained the price above the significant 4-hour ascending trend-line (marked in bold yellow).
In the following day, we saw Bitcoin retesting the line, again getting supported upon the significant news coming upon Bakkt launch date. The news could be a game-changer for Bitcoin, in its way for long-term mass adoption.
Bitcoin had recovered nicely from the immediate risk; however, until producing a higher-high on the daily chart, which Bitcoin failed to do at its last attempt around $12,000, the situation is still neutral and fragile in the short-term.
Another thing to note is the range Bitcoin is trading at: from above – the MA-200 (marked by light green on the 4-hour chart), while from below is the 100-days moving average line (marked white on the daily chart) along with the above mentioned ascending trend-line.
Total Market Cap: $268 billion
Bitcoin Market Cap: $185 billion
BTC Dominance Index: 69.1% (Dominance again close to 70%)
*Data by CoinGecko
Key Levels to Watch
– Support/Resistance:
The nearby resistance now lies around $10,550 (the MA-200 light-green line on the 4-hour chart). Further above is $10,800 along with the 50-days moving average line (marked purple). In case of a break-up, we can expect $11,000 – $11,200 to be the next significant short-term resistance level. The last also contains the descending trend-line, which was started forming amid the 2019 high at $13,880.
From below, the current area of $10,200 – $10,300 is the first line of support. Further below is $10,000 and $9,800 (the 100-days moving average line). Below lies $9600 and $9400 (the weekly low).
– Daily chart's RSI: The RSI indicator had found support by the 40 horizontal line. As of now, the RSI lies around 45, still below the 50 significant area, which is the bullish area. However, positive remarks might come from the Stochastic RSI oscillator, which had made a cross-over at the oversold territory and about to enter the bullish zone.
– Trading Volume: The reversal candle from two days ago turned out to be the highest volume day since July 18. This could be a bullish sign for a possible green continuation.
BTC/USD BitStamp 4-Hour Chart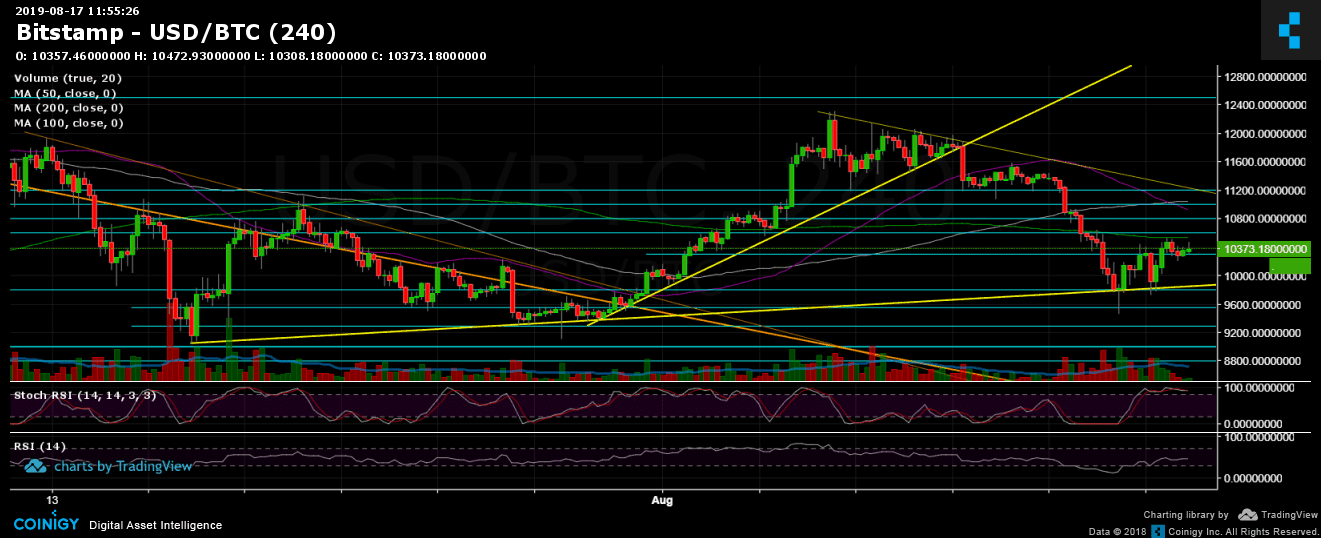 BTC/USD BitStamp 1-Day Chart

The post Bitcoin Price Analysis: BTC Shows Strength Following Bakkt's Launch News, Last Buy-Opportunity Below $10,000? appeared first on CryptoPotato.