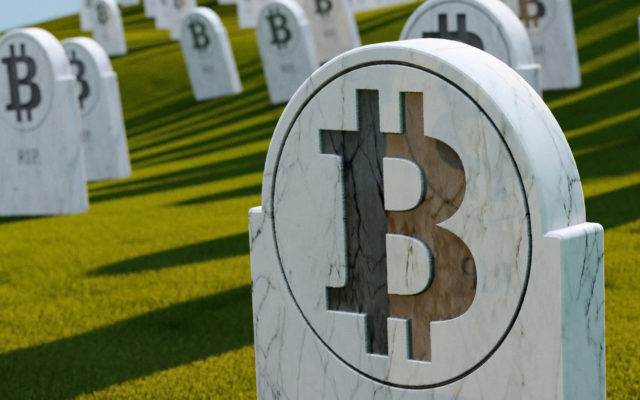 Bitcoin died 91 times in 2018 alone and 337 in total. But despite the latest bear cycle, hard data shows that Bitcoin has grown with more than 82,000 percent in the last 7 years. 
---
Bitcoin 'Died' 91 Times in 2018
According to website Bitcoin Obituaries – there were 91 publications in 2018 proclaiming Bitcoin's demise.
Interestingly, there were 125 'obituaries'  in 2017, the frequency of which actually peaked right when Bitcoin was nearing its all-time high price of $20,000 in December.
Overall, since 2010, doomsayers have buried Bitcoin exactly 337 times, according to the website.
But how dead can something be when it's been running 24/7 with 99.98% uptime for over a decade now?
82000% Growth in the Last 7 Years
It's true that 2018's prolonged bear market took its toll on bitcoin's price. BTC 00 is currently trading at more than 80 percent below its all-time high price.
Nevertheless, if one only measures Bitcoin by its price in dollars, it still turns out that Bitcoin is not only not dead – it has actually grown by more than 82,000% in the last 7 years.
What's more, its fundamentals are still intact, said Spencer Bogart earlier this month, while other metrics like hash rate (network security) and layer-two scaling solutions (i.e. Lightning Network) have actually seen unprecedented growth.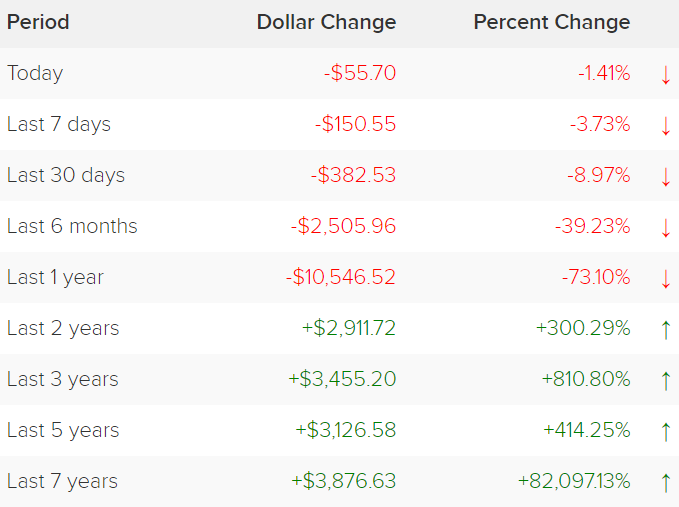 Furthermore, since January 1, 2011, BTC's daily moving average is 0.325 percent in the positive.
Bitcoinist reported last month that BTC returns have also outperformed Amazon stock (AMZN) over the past seven years.
BTC Adoption is Real
Regardless of how many times naysayers have proclaimed its demise, Bitcoin's ownership is also rising.
As reported in October, four different studies by the Ontario Securities Commission and the Central Bank of Canada indicate that 3 to 5% of Canadians own Bitcoin.
Another survey by market research agency YouGov revealed that up to 9 percent of UK residents own the cryptocurrency while 90 percent of them have heard of it.
What is more, the US even saw its first county and then state (Ohio) to begin accepting bitcoin for tax payments.
And for something that's supposedly 'dead', 2018 saw over $410 billion transacted via BTC or an average of $13,000 per second (despite its decreasing value in dollars this year) .
Finally, this is not the first time the cryptocurrency has suffered 80 plus percent drops. As it turns out, though, each time it comes back up, reaching a much higher high.
What will 2019 bring for Bitcoin? How many times will Bitcoin die in 2019? Share your prediction below!
---
Images courtesy of Shutterstock, coin.dance
The post Bitcoin Grew 82,000% in 7 Years But 'Died' 91 Times in 2018 appeared first on Bitcoinist.com.