Traditional stocks mark yet another day of steep declines. This comes a few days after the US President, Donald Trump, said that he'll impose yet another 10% tariff on an additional $300 billion worth of Chinese good intended for import within the US. Amid these tumbling market condition, Bitcoin gained upwards of 28% in a few days, causing many to believe that it can be viewed as a hedge. But can it really?
Traditional Markets Continue to Tumble
As Cryptopotato reported last week, the United States President, Donald Trump, said that he will impose a 10% tariff on an additional $300 billion worth of Chinese goods. This catalyzed yet another wave of tension between the two largest economies in the world, casting traditional stock markets in the red. 
It's worth noting that the US had previously hit another $250 billion worth of Chinese goods with a 25% tariff. 
A week later, it appears that the markets are still feeling the tension. The NASDAQ is down 3.67% in the last day, while the S&P 500 index is down 2.98% losing a total of 87,31 points.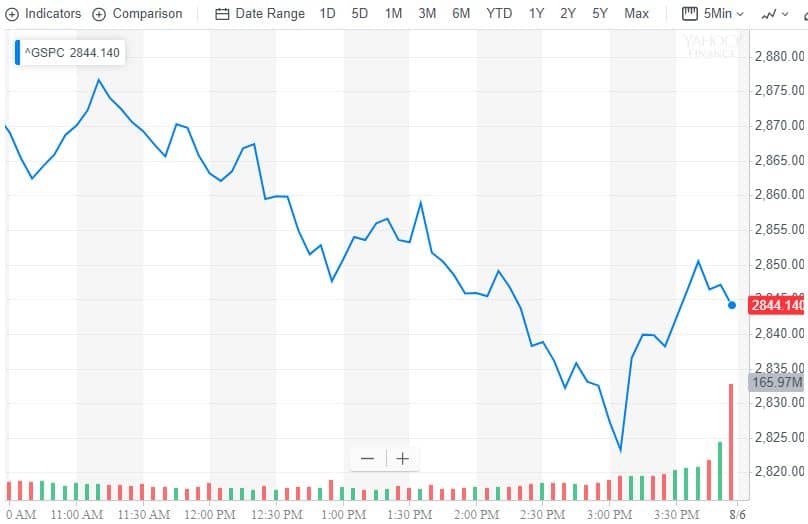 Other major indexes, including the Dow Jones Industrial Average (DJI) is also down 2.9% on the day. 
Amid these tumbling market conditions, Bitcoin is currently surging, causing many to believe that it can effectively surge as a hedge against traditional stocks. One of those who seem to hold this position is Tim Draper, a popular Bitcoin proponent, as well as a reputed VC investor. Commenting on the matter, he noted:
Nasdaq down 3.4% Dow down 2.9%. Bitcoin up 3.2%. Bitcoin may be a remarkable hedge. #bitcoin

— Tim Draper (@TimDraper) August 6, 2019
Indeed, looking at Bitcoin's performance, we can clearly see that the cryptocurrency has outperformed pretty much all of the traditional stock indexes substantially. Draper is also not the only one to fuel the merit between Bitcoin being used as a hedge. Speaking on the matter was also another popular blockchain investor and Bitcoin analyst, Oliver Isaacs, who said: 
The net effect of the trade war between the US and China has led to the sudden interest in bitcoin as a hedge on investments.
What's The Other Side Of The Story?
Of course, there are also those who are making the case that Bitcoin might not be well-suited for a hedge investment against traditional stock markets. 
Amid the most common concerns for this are the lack of regulations, Bitcoin's high volatility, as well as fears of market manipulation. 
Naturally, it's challenging to determine whether it's reasonable to consider Bitcoin a safe haven amid tumbling traditional market conditions. 
However, looking at the numbers, it sure looks like it. This was brought up by Anthony 'Pomp' Pompliano, who shared a simple, yet particularly definitive statistics:
S&P 500 YTD: 17%
Bitcoin YTD: 184%

Bitcoin performance has 10x'd stocks through the first 7 months of the year 🔥

— Pomp 🌪 (@APompliano) August 3, 2019
It's worth noting though, that since Pomp's tweet, Bitcoin has gained more momentum and it's now up more than 280% YTD, making its performance against the S&P 500 even more impressive.
The post Bitcoin and The Current Global Markets Crisis: Indeed a Safe Heaven? appeared first on CryptoPotato.